In 1990, Yannis and Athina Lazarakis created MAISON, an office of real estate advisors and estimators, which is distinguished by trust, reputation and professionalism. These characteristics helped the company withstand the crises that the market of real estate has passed occasionally and finally become one of the leaders in the real estate market. Today Maison has its privately-owned offices of 400 m2 in Elliniko of Attica and 80 real estate collaborators that cover all the region of Attica and surroundings.
All these contributed to create in 2008 Maison Estate of Thessaloniki, with its privately-owned offices of 260 m2 in Kalamaria and 40 collaborators that cover all the region of Thessaloniki and Chalkidiki.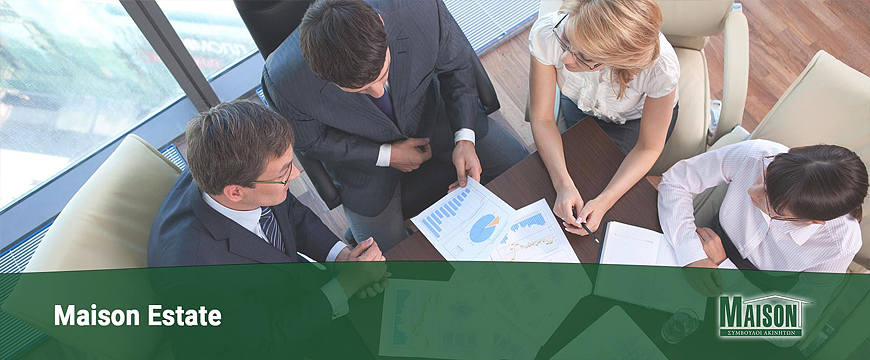 In the future, Maison Estate will create offices in other Greek cities and also cooperates with offices in Cyprus, Europe and the Balkans.
MAISON provides reliability and high quality services to its customers. Maison listens closely for the needs and their wishes and satisfies them consequently and effectively. Maison is devoted to each customer who is its main concern. For 20 years we aim to provide integrated services adapted in the requirements of our customers. Maison provides flexible advisory support on real estate issues, investments and transactions, which is being appreciated by all our customers.
Maison is known as one of the leaders in real estate and provides quality products and services for our customers.
These are the core values that guide Maison's approach to business:
We satisfy effectively the needs and the wishes of our customers.
We provide pioneering real estate services and high quality service.
We aim at our collaborations' success through high output and long-lasting prospects.
We choose competent collaborators/brokers, who share the same values and philosophy as ours.
We continuously invest in the education and development of our stuff and our activities.
We develop our network in all Greece giving the chance to a lot of people to choose the guaranteed services that we provide.
We collaborate with banking advisers, lawyers, notaries, civil engineers, for your full and effective service.
Our multi-year experience and our executives' know-how prompts us to the next step, franchising, targeting the creation of a powerful real estate services network throughout Greece.
Our vision is the further development in the Greek market of Real Estate, through a modern network development, based on completed solutions, friendly service of each customer, convenience, reliability and transparency of provided services.
Possessing an effective infrastructure that covers successfully the region of Attica, MAISON aims in the satisfaction of demand both in the rest of Greece and in the islands of Greece.